Regular price
$29.90USD
Sale price
$14.90USD
Unit price
per
Sale
Sold out
Have you just welcomed a vibrant German Shepherd into your life or want to deepen your bond with your loyal companion? Embarking on a journey with a German Shepherd is a voyage filled with joy, challenges, and unmatched loyalty.
Your All-in-One Guide to German Shepherd Mastery!
Prepare yourself for an enlightening journey where you will forge an unbreakable bond with one of the most intelligent and loyal breeds known to mankind. This comprehensive guide is here to usher you into the world of German Shepherds, a realm filled with joy, companionship, and mutual respect.
Develop a Deep, Fulfilling Relationship!
Inside this essential guide, you will find detailed insights and expert advice that cover every facet of German Shepherd care, training, and wellness. From the playful puppy days to the dignified senior years, be prepared to understand and cater to your Shepherd's needs like a pro.
Unlock a Lifetime of Happiness and Wellbeing!
The book offers you a wealth of knowledge that goes beyond training. Learn to connect with your German Shepherd on a deeper level, understanding their unique behavioral patterns, nutritional needs, and health considerations.
Take Action for a Joyous Life Together!
Ready to become the German Shepherd owner that you aspire to be? This guide provides you with the tools, insights, and expertise necessary to nurture your beloved companion's happy, healthy, and fulfilling life.
Dive In Now and begin a Wonderful Journey with Your German Shepherd!
Become an epitome of excellent German Shepherd guardianship. Make a move today to gift yourself and your German Shepherd a life enriched with love, understanding, and boundless joy. Grab your copy now, and enter a life filled with wagging tails and affectionate licks!
Table of contents
Chapter 1: Introduction
History of German Shepherds

Importance of training

Overview of training methods
Chapter 2: Understanding the German Shepherd
Breed characteristics

Temperament

Common health issues

Diet and nutrition
Chapter 3: Basic Training Principles
Positive reinforcement

Timing and consistency

Socialization

The importance of exercise
Chapter 4: Puppy Training
House training

Basic commands

Socialization with people and animals

Handling and grooming
Chapter 5: Puppy Training
Sit, stay, come, heel

Leash training

Off-leash training

Behavioral correction

Boundary training

Distraction-proofing commands

Advance tricks and commands
Chapter 6: Advanced Training Techniques
Agility training

Protection and guard training

Search and rescue training

Therapy dog training

Herding skills development

Scent detection and tracking

Service dog training
Chapter 7: Dealing with behavioral issues
Barking

Biting

Separation anxiety

Aggression

Digging

Resource guarding

Jumping up on people
Chapter 8: Neutering, Spaying, and the Heat Cycle
Understanding the German Shepherd's reproductive cycle

Pros and cons of neutering/spaying

The heat cycle in female German Shepherds

Post-operative care for neutering/spaying

Behavioral changes after neutering/spaying
Chapter 9: German Shepherd Rescue
Understanding rescue Organizations

The journey of a rescued German Shepherd

Adopting a rescued German Shepherd: tips and guidelines

How to support German Shepherd rescue initiatives
Chapter 10: German Shepherd - Bath & Grooming
Understanding the German Shepherd's coat

Bathing essentials

Brushing dynamics

Nail care 101

Dental health regimen

Ear cleaning and eye care
Chapter 11: German Shepherd Types - Specific Needs
Understanding different German Shepherd types

Nutrition and dietary requirements

Exercise requirements for different types

Behavioral patterns across types

Training techniques for various types
Chapter 12: Owner Habits for a Happy Shepherd
Cultivating patience with your German Shepherd

Communicating with your German Shepherd

Lifestyle adjustments for German Shepherd owners

Building a bond with your German Shepherd
Chapter 13: Senior German Shepherd Care
Seniorhood transition: care adjustments

Aging German Shepherd: nutritional adjustments

Mobility & comfort: joint and arthritis care

Senior German Shepherd: mental health & engagement
*Number of book pages: 300
*Format size: A4 (printable)
*Lifetime access to book updates
Share
View full details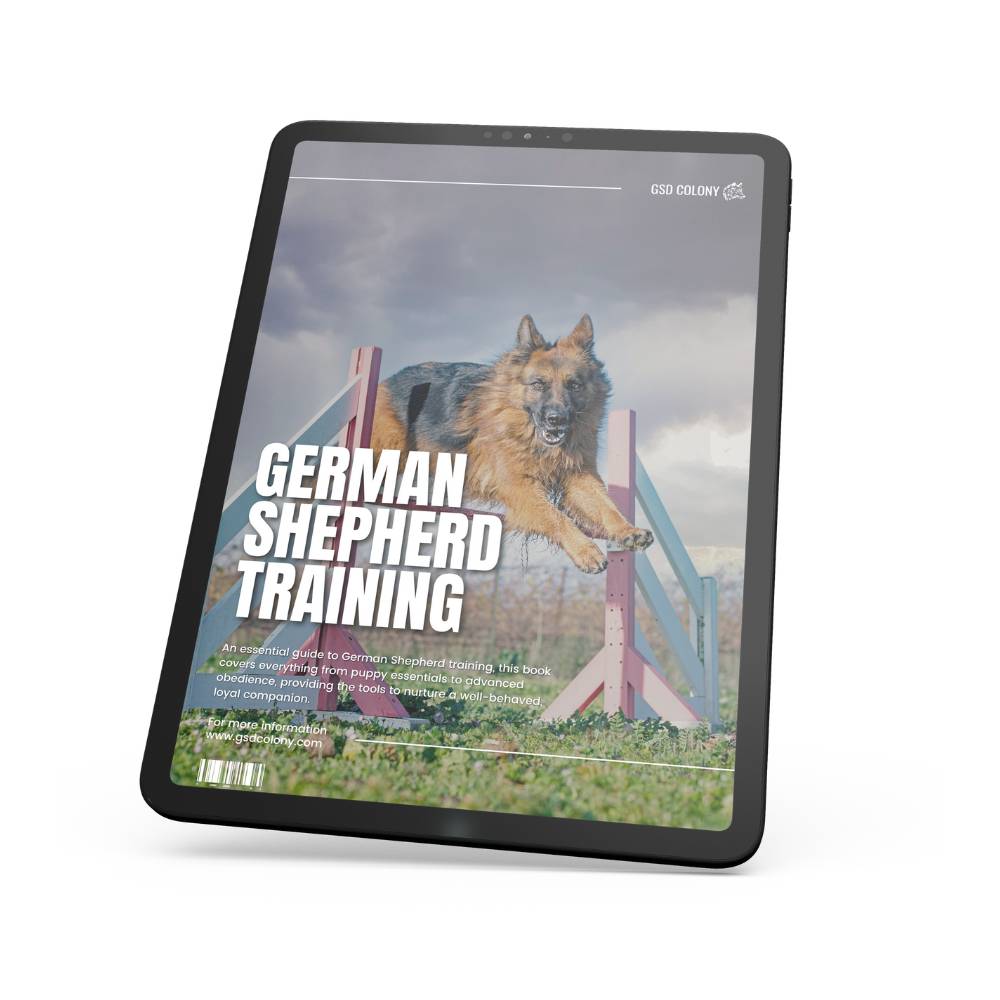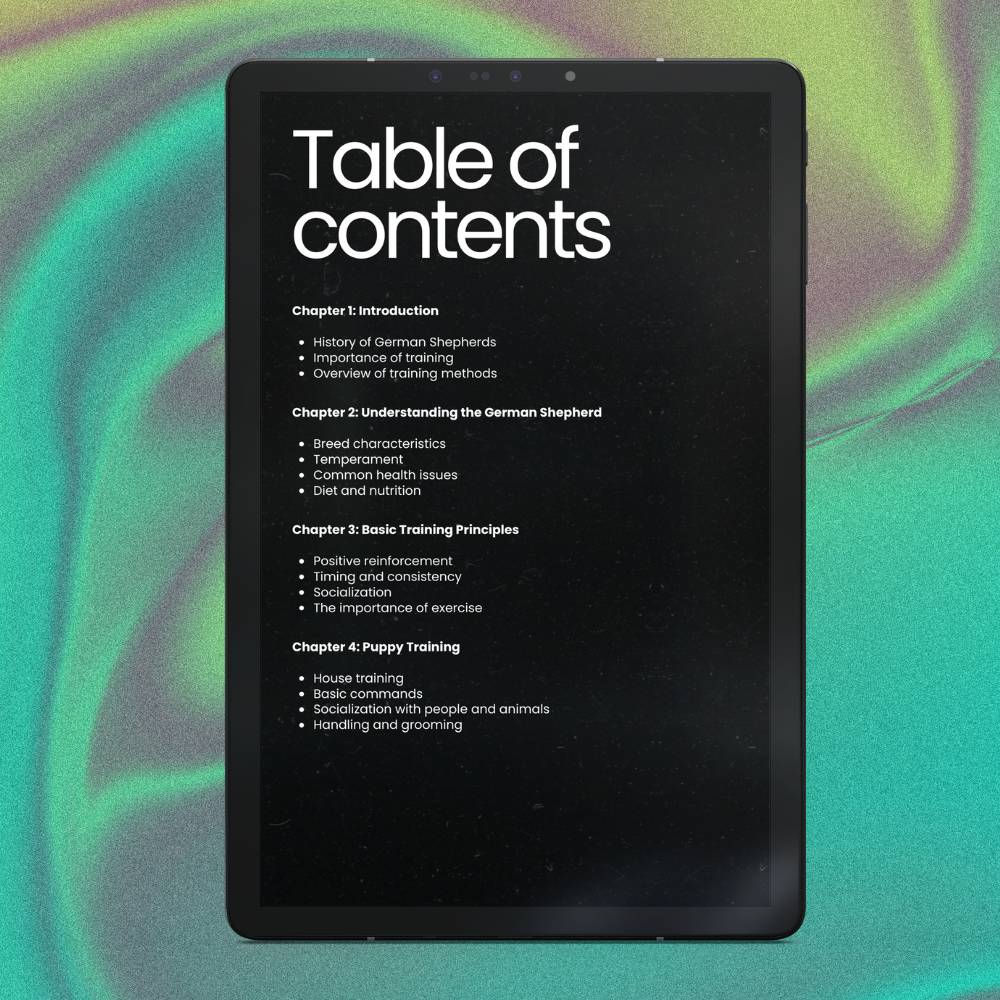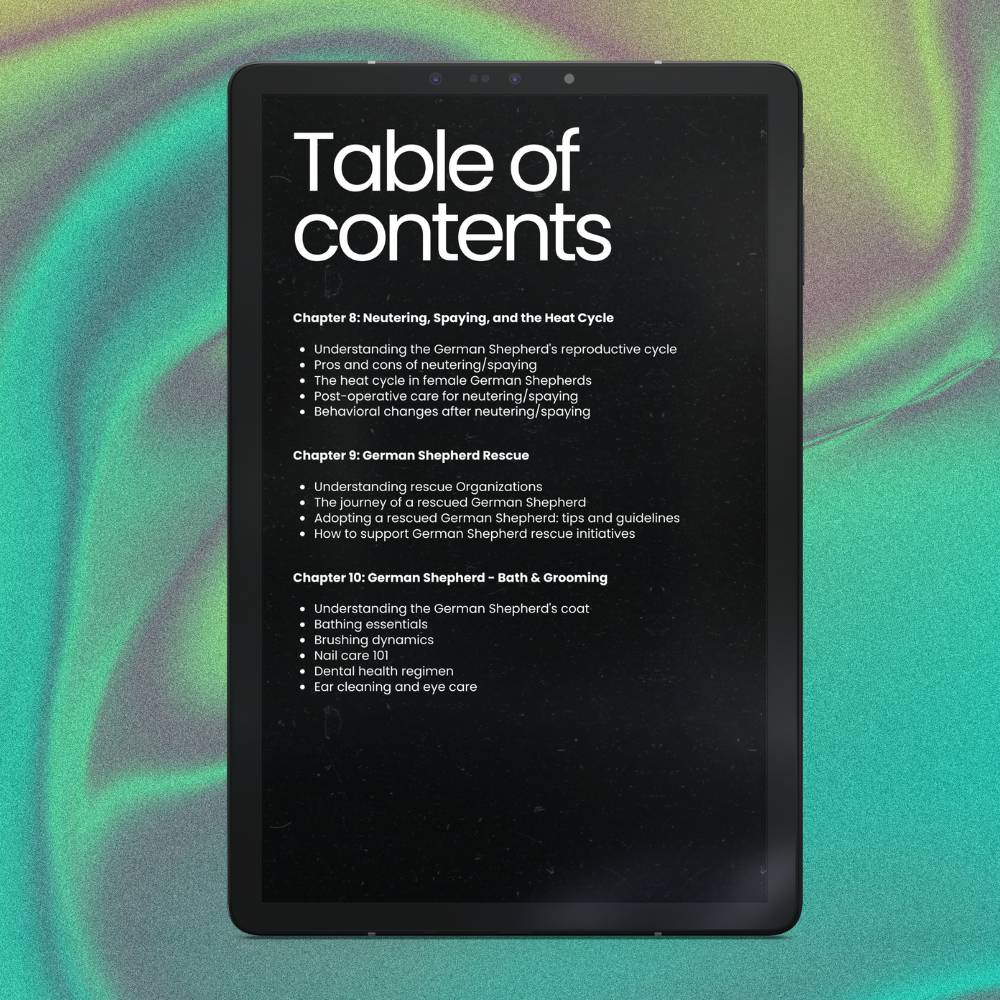 Collapsible content
FAQ

If you have more questions about shipping time, customer support and more, you can check our FAQ page.
SHIPPING

We offer free standard delivery on all orders. Our delivery time depends on the distance of your location from ours warehouse.

Our general delivery time is 7-20 days.

Due Covid-19, some international packages may be delayed due to routing or customs delays.

One of the main reasons for longer delivery time is:

● Quality Control
● Processing Time
● Product Validation
● Creating a Tracking Number

All these steps are necessary, in order to provide the best customer experience.

USA Within 5-15 business days

Europe Within 7-20 business days

Canada Within 7-17 business days

Australia/NZ Within 7-17 business days

Rest of the World Within 7-20 business days
CONTACT US

If you have any question about your order status or you need help with your order, free feel to contact us via our Contact Us page.