Regular price
$24.90USD
Sale price
$12.90USD
Unit price
per
Sale
Sold out
Introducing "The Ultimate German Shepherd Puppy Care Guide" - a comprehensive PDF eBook created with meticulous care and utmost love for this dynamic and loyal breed. With over 8 information-packed chapters, this guide is an invaluable resource for new and seasoned German Shepherd owners.
The eBook delves deep into the origins and distinctive traits of the German Shepherd breed, exploring what makes these dogs unique and cherished worldwide. We then move on to preparatory steps for welcoming your new puppy, covering aspects from home preparation to training plans and the crucial first vet visit.
The guide also offers insightful chapters on essential subjects like Nutrition and Diet, Health and Vet Care, Training Your German Shepherd Puppy, Exercise and Play, and Grooming Your German Shepherd Puppy. From understanding your puppy's nutritional needs to the fundamentals of early training, from exercise needs to grooming routines, we cover it all!
In addition to the puppy stage, our guide extends its scope to discuss your dog's adolescence and beyond, preparing you for physical and behavioral changes, health considerations, and how to make the most of their golden years.
Whether you're grappling with behavioral challenges or simply wishing to deepen your bond with your German Shepherd, our dedicated conclusion chapters guide you through developing a lifelong bond with your pet, troubleshooting problems, and when to seek professional help.
Our mission is to help you become your best dog parent, ensuring your German Shepherd grows up in a nurturing, well-informed environment.
Don't miss this chance to enhance your journey with your German Shepherd puppy. Grab "The Ultimate German Shepherd Puppy Care Guide" today - your one-stop resource for responsible German Shepherd ownership!
In-depth Understanding: This eBook provides an extensive understanding of the German Shepherd breed, which can lead to a more rewarding and enjoyable pet ownership experience.
Saves Time: Instead of searching for reliable information from various sources, this eBook puts all you need to know in one convenient place.
Tailored Advice: The advice and recommendations in this guide are specifically tailored for German Shepherd puppies, ensuring the information is highly relevant and effective.
Improves Puppy Care: Following the tips and instructions in this guide, you'll be better equipped to care for your German Shepherd puppy, enhancing its overall health and happiness.
Preventative Measures: The eBook provides guidance on potential health issues and behavioral problems, helping you take preventive measures or address problems early on.
Supports Long-term Planning: This guide covers all stages of a German Shepherd's life, from puppy to senior dog, helping you plan and prepare for the years ahead.
Easy Access: As a PDF eBook, you can access the guide anytime, anywhere, on multiple devices.
Cost-Effective: For the price of a few coffees, you can ensure that you're giving your German Shepherd the best care possible, potentially saving on vet bills and other expenses in the future.
Improved Relationship: Knowledge is the foundation of a strong relationship with your pet. This guide provides the knowledge you need to understand, bond with, and train your German Shepherd effectively, enriching your relationship.
Makes a Great Gift: If you have friends or family who are new German Shepherd owners, this eBook will make a thoughtful and useful gift.
Table of Contents
Introduction
Understanding the German Shepherd Breed: Background, Characteristics, and Traits

Why Choose a German Shepherd Puppy: Pros and Cons
Chapter 1: Preparing for Your German Shepherd Puppy
1.1 Home Preparation

1.2 Choosing the Right Supplies

1.3 Finding a Veterinarian

1.4 Training and Socialization Plans

1.5 Schedule and Routine
Chapter 2: Bringing Your Puppy Home
2.1 The Journey Home

2.2 Introducing Your Puppy to Their New Home

2.3 The First Night

2.4 The First Few Weeks

2.5 Setting Boundaries

2.6 First Vet Visit
Chapter 3: Nutrition and Diet
3.1 Understanding Your Puppy's Nutritional Needs

3.2 Choosing the Right Puppy Food

3.3 Reading and Understanding Food Labels

3.4 Establishing a Feeding Schedule

3.5 Transitioning to Adult Food

3.6 Treats and Snacks

3.7 Foods to Avoid
Chapter 4: Health and Vet Care
4.1 The First Vet Visit: What to Expect

4.2 Vaccinations and Deworming

4.3 Flea and Tick Prevention

4.4 Regular Health Checks

4.5 Common Health Problems in German Shepherds

4.6 Dental Care

4.7 Spaying/Neutering
Chapter 5: Training Your German Shepherd Puppy
5.1 The Importance of Early Training

5.2 Basic Commands

5.3 Socialization

5.4 Crate Training

5.5 House Training

5.6 Leash Training

5.7 Preventing Common Behavior Problems

5.8 Advanced Training and Dog Sports
Chapter 6: Exercise and Play
6.1 Understanding Your Puppy's Exercise Needs

6.2 Structured Exercise

6.3 Play as Exercise

6.4 Mental Stimulation

6.5 Socialization as Exercise

6.6 Exercise and Training Balance

6.7 The Impact of Exercise on Behavior
Chapter 7: Grooming Your German Shepherd Puppy
7.1 Understanding Your Puppy's Grooming Needs

7.2 Coat Care

7.3 Bathing

7.4 Ear Care

7.5 Nail Trimming

7.6 Dental Care

7.7 Eye Care

7.8 Grooming as a Bonding Experience
Chapter 8: Adolescence and Beyond
8.1 Physical Changes

8.2 Behavioral Changes

8.3 Training Revisions

8.4 Health Considerations

8.5 Preparing for the Golden Years
Conclusion
Growing Up Together: Developing a Lifelong Bond with Your German Shepherd

Troubleshooting and Seeking Professional Help
*Number of book pages: 155
*Format size: A4 (printable)
*Lifetime access to book updates

Share
View full details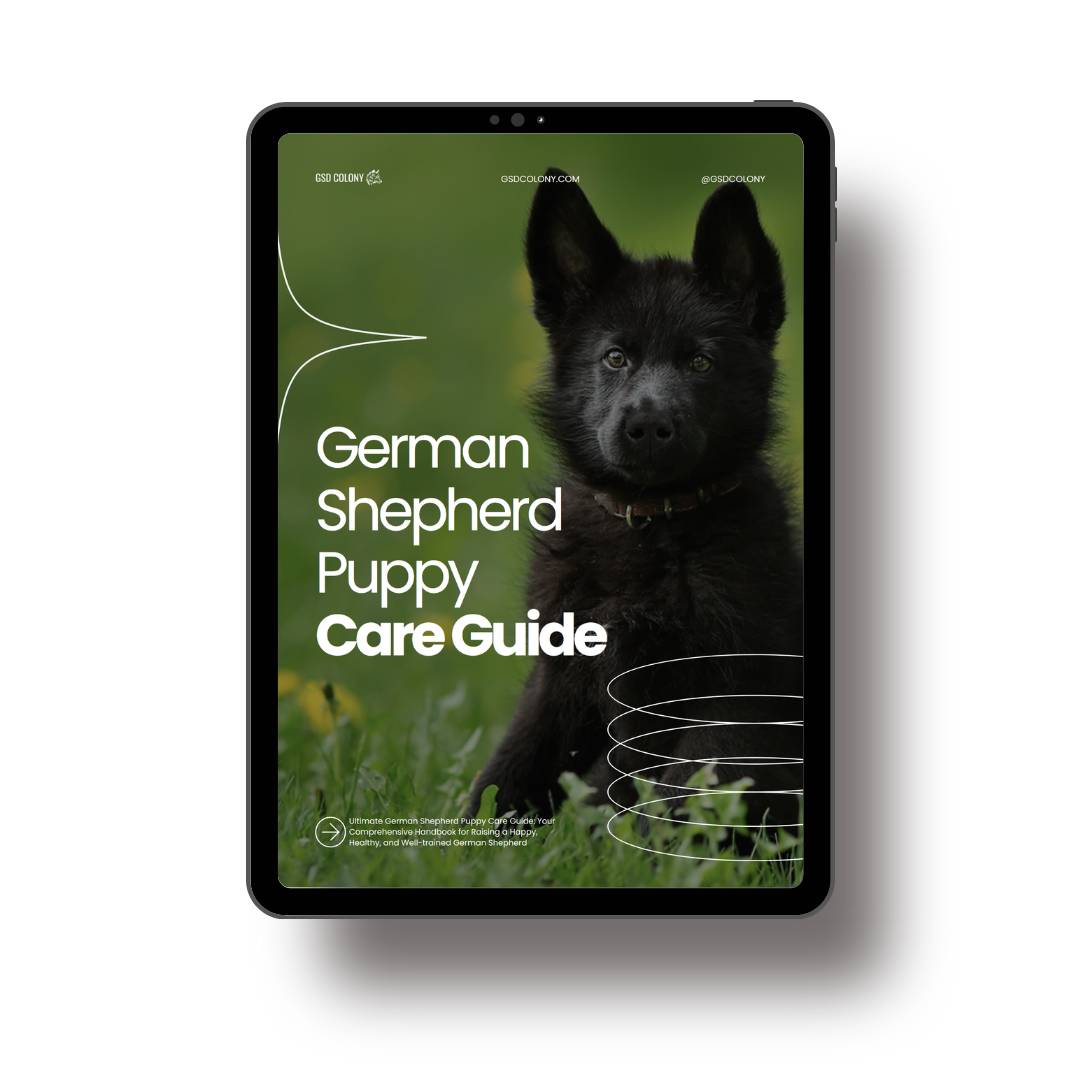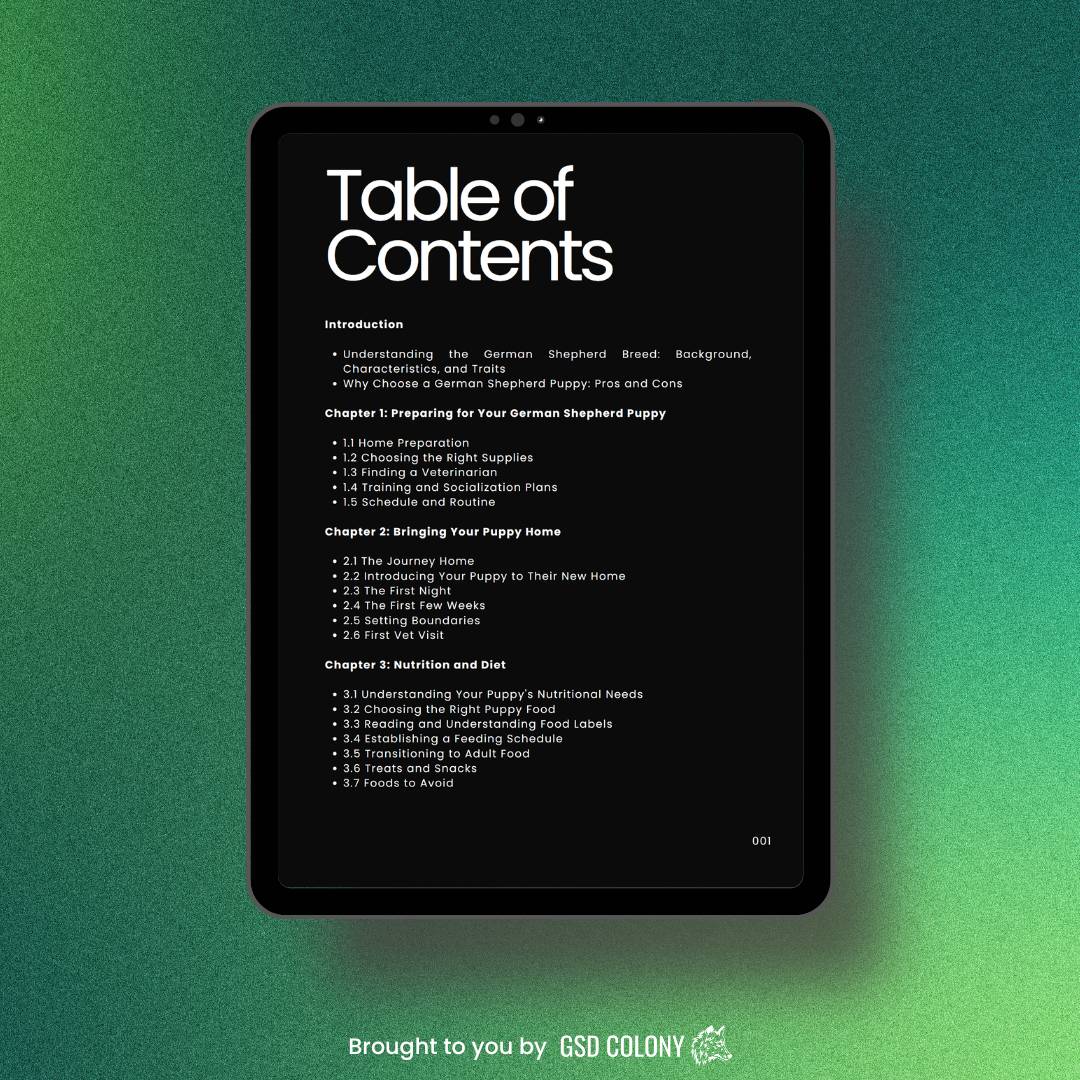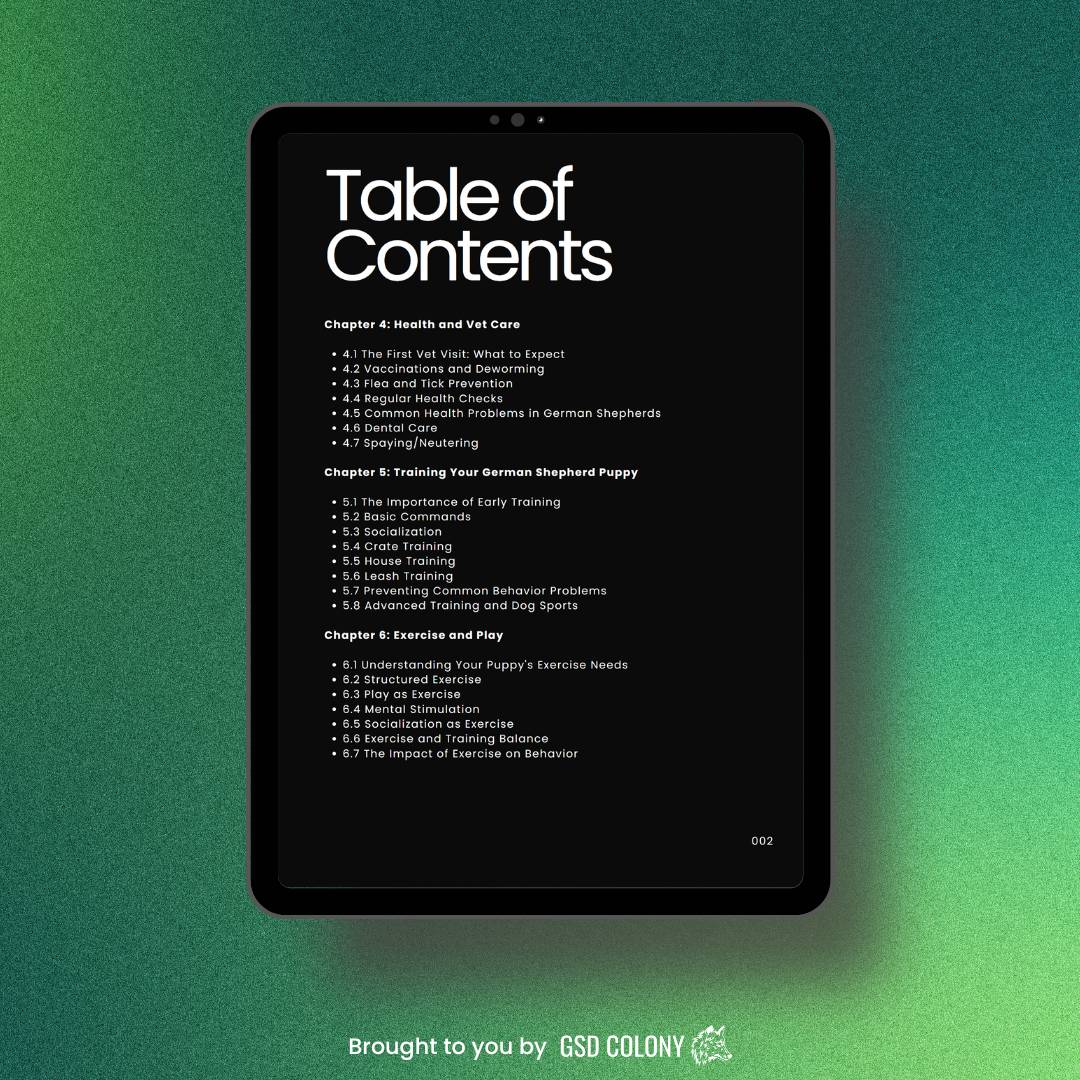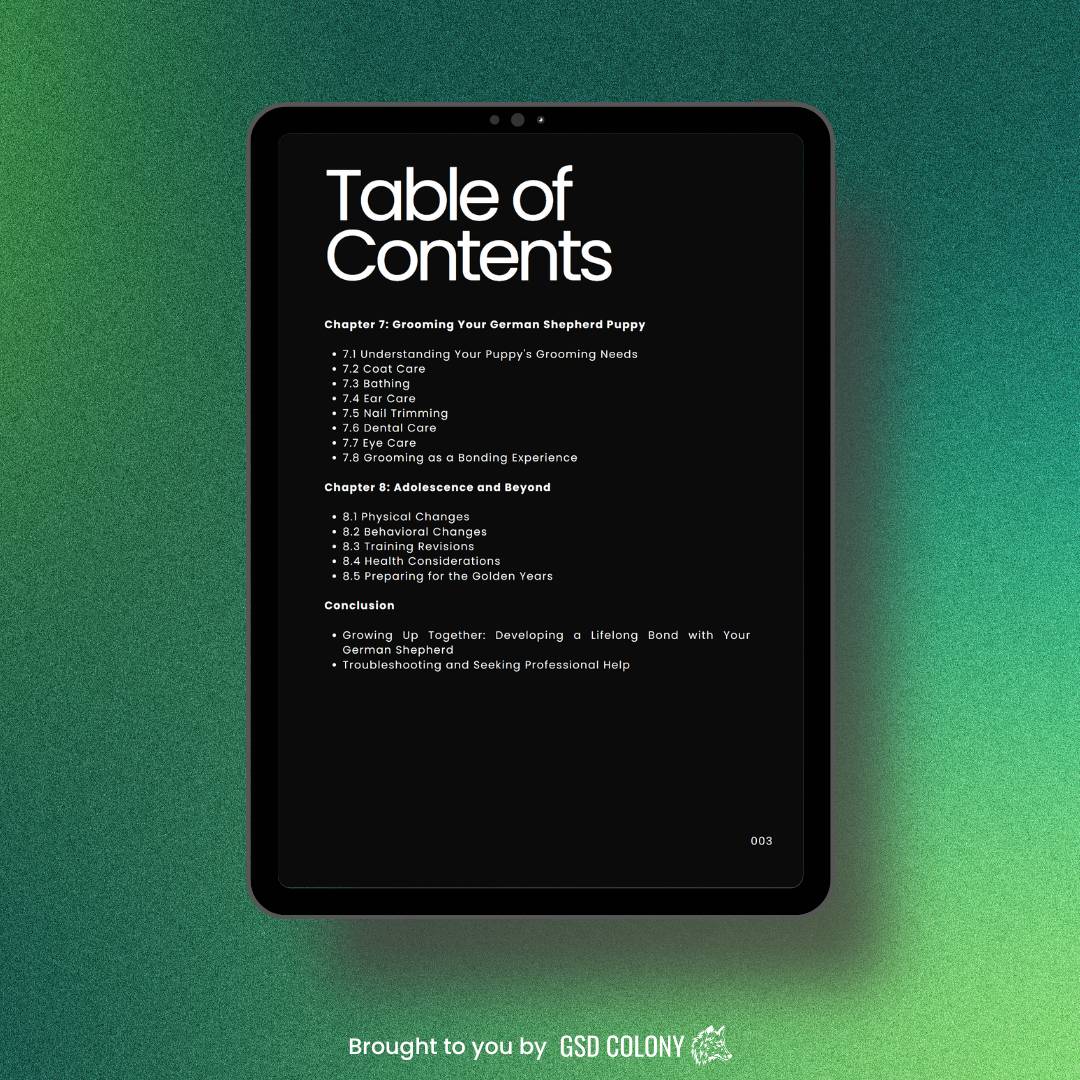 Collapsible content
FAQ

If you have more questions about shipping time, customer support and more, you can check our FAQ page.
SHIPPING

We offer free standard delivery on all orders. Our delivery time depends on the distance of your location from ours warehouse.

Our general delivery time is 7-20 days.

Due Covid-19, some international packages may be delayed due to routing or customs delays.

One of the main reasons for longer delivery time is:

● Quality Control
● Processing Time
● Product Validation
● Creating a Tracking Number

All these steps are necessary, in order to provide the best customer experience.

USA Within 5-15 business days

Europe Within 7-20 business days

Canada Within 7-17 business days

Australia/NZ Within 7-17 business days

Rest of the World Within 7-20 business days
CONTACT US

If you have any question about your order status or you need help with your order, free feel to contact us via our Contact Us page.